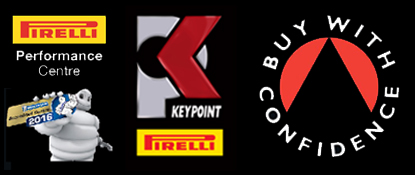 Jet Wheel Tyre Accreditations
Over the years, Jet Wheel Tyre in Essex has earned a lot of awards. We are very proud of our achievements and strive to continue to improve every year so we can offer you the very best service possible.
---
Castle Point Business of the Year
On Saturday 5th April we won the Castle Point Business of the Year award. A total of 160 guests looked on during the Castle Point Mayor's Civic Dinner as we became the seventh winner of the annual award, which is presented to a company that has demonstrated business excellence over the previous 12 months.
In our winning application, we were able to showcase our membership of Trading Standards' Buy with Confidence Scheme, and achievement of Pirelli Performance Centre Platinum status (one in only 6 to gain the Platinum status), passing a strict audit from industry specialists who assess businesses on quality of staff, premises and customer satisfaction.
"Castle Point Borough Council continued its commitment in showcasing the best of local business, as the winners of the Mayors Award were announced at the annual Civic Dinner on Saturday 31st March. Following the success of last year's inaugural Apprentice of the Year award, the 2012 prize was keenly contested, and won by James Hemmings, of Jet Wheel Tyre. James began his apprenticeship in June 2011, and has become an important asset to the business, gaining valuable workplace experience, complementing college studies." Extract from castlepoint.gov.uk