Tyre Labelling
For more information please contact us or fill in the contact form and we will ring you back.
As of 1 November 2012, all passenger tyres sold in the European Union must be labelled with an official EU tyre label. This label contains information about three important criteria that form the basis for evaluating tyre performance:
wet grip and braking distances
fuel efficiency
exterior noise
---

Wet grip and braking distance is a measurement of how long it takes for the vehicle to stop in wet road conditions. Wet weather tyres are rated from A to G, with A rates tyres cutting wet braking distances by on average 18 metres.
Manufacturers change tyre patterns to improve wet braking times and reduce the chance of aquaplaning – this is where the water sits between the road and tyre and cases the tyres to float, lacking grip to respond to the drivers commands.
---

The fuel efficiency rating is from A to G. A-rated tyres are the most fuel-efficient tyres and G-rated tyres will have you filling up far more often. With more fuel efficiency from well-chosen tyres, this lowers the cost of running the vehicle and releases less harmful Carbon Dioxide into the atmosphere.
Tyres indirectly use 20% of fuel consumption due to 'rolling resistance', which is the friction, created when the tyres make contact with the road. Each tyre has a different rolling resistance depending on the shape and composition. Tyres with less rolling resistance use less fuel.
---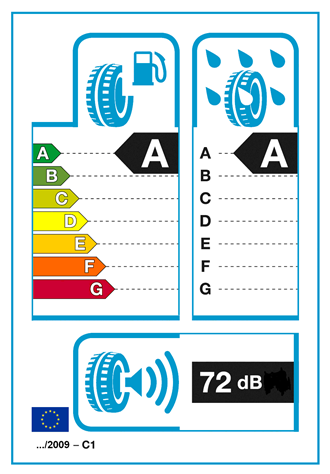 External noise is measured in decibels and is the noise created outside the vehicle. This is noise levels produced externally, not noise heard by the driver inside the car. This is shown on the tyre label buy 1 to 3 black 'wave' lines; one wave being the quietest
Noise is becoming an important topic as there are new European mandatory limits being introduced in regards to noise emissions over the next few years. Tyres with one or two 'wave' ratings will be within the new noise limits; however, tyres with three waves will not meet the new limits. Therefore noise levels are an important factor to consider when purchasing a tyre in the next few years.